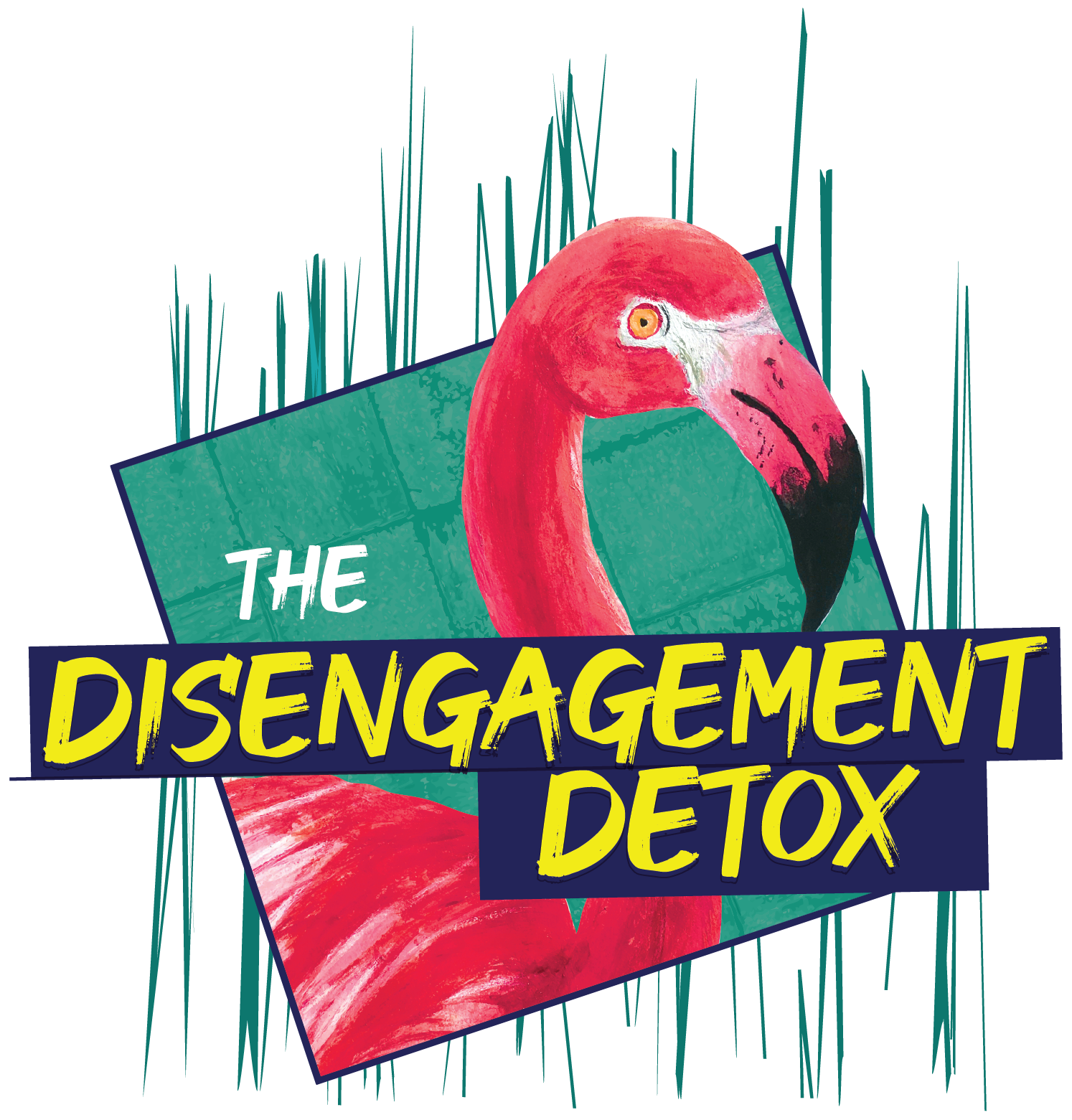 Facilitator
Samm Smeltzer
What's Included:
(8) 75-Minute LIVE Classes

(8) 45-Minute Group Coaching Sessions

(8) Guided Audio Meditations

(14) Exercise Video Tutorials

Disengagement Detox Workbook
What is the schedule for our sessions?
Our LIVE meeting times will be on Monday nights at 8PM EST. If you are unable to make it, a replay will be made accessible within 24-hours on this page.
Is there homework? If so, how much?
We don't like to call it homework, but there is an expectation that you engage in learning between sessions. This work includes practicing simple exercises that can be completed in 10-minutes or less daily. It also includes being open and curious to the occurrences in your surroundings, viewing them all as part of this curriculum and capturing them as needed.
Should I prepare anything for the sessions?
You will only need to prepare your space for our initial session. Ensure that you are somewhere where you can commit to our time together with limited distractions. Many past participants have found this easier by closing out all other apps or browser windows, setting their devices to do not disturb, and even placing their phone out of sight on silent. Do what you feel you need to in order to make the most of this time for yourself.

For future sessions, it is always beneficial to take a few minutes before we start to look back on what has occurred outside of our formal learning space. Make note of these or significant encounters that are worthy for further discussion or sharing.
Are there any materials I need?
All materials for our time together will be available on this page and are organized by session. In addition, it is recommended that you obtain a notebook or journal that can be dedicated to capturing all relevant notes for our work.
Do I need to answer all of the questions? I am not sure how they are relevant.
The questions presented in some of our assignments may provoke some discomfort because they are not what we commonly expect when pursuing a professional growth journey. Nevertheless, it is important to remember that your wellness must take into account your whole collective being rather than a sliver of your existence. Know that every symptom that you experience mentally, emotionally, and physically are linked together and paint a path of healing.

You will never be forced to answer a question that makes you uncomfortable, but please consider what that question could possibly reveal in regards to what you are working towards.
Can you see my answers? If so, what are you doing with the information?
Your facilitator does have access to the information you complete electronically in this portal. If this does not make you comfortable, please let us know and we would be happy to provide you with a downloadable PDF of any assignment or assessment for you to complete outside of this space.

The information you submit electronically is never shared or used for alternative purposes. The intention for sharing the information with your facilitator is to provide even greater detail and insight into your current circumstances; this allows them to cater the experience to you specifically to maximize outcomes.
Choosing yourself is one of the most powerful decisions you can make in your life, and that is exactly what you did when you said yes to the Disengagement Detox.

I am honored to be able to share this space with you as your facilitator and coach. I have no doubt that our time together will be filled with perfectly timed encounters and emotions that will enable you to heal.

Know that from this moment forward nothing you experience is coincidence but instead part of an intimate intentional curriculum designed by your higher self. This path will not always be easy, but the growth as you push through discomfort will result in the personal restoration you seek. Hold onto your why, the reason you said yes, and trust that each day serves as one step closer to that vision.

Lastly, I want to share this video with you. In it I describe what led me to create this program and why I believe it is vital work for people-driven practitioners.

Take care of yourself and I'll talk to you soon.
Meet your Facilitator and Coach
Samm Smeltzer
Samm Smeltzer is an HR Visionary and Medical Qigong Healer. In November 2021, she earned her Masters certification in Medical Qigong with Ted O'Brien at the East Coast Institute of Medical Qigong. As an HR Visionary, her decade-long pursuit of the missing elements for employee engagement within organizations led her down this path of merging Spirituality, Eastern Medicine and workplace wellness to create the potential for deep healing within our workplace cultures.

Samm is the founder of The HRart Center, a center devoted to corporate wellness and growth. As a Medical Qigong Therapist, Samm's clients come from a range of different backgrounds, but she specializes in healing stress and burnout for professionals as well as coaching them back to their Connected Path. The HRart Center's ultimate mission is to train HR professionals to become HR healers so they can heal their own workplaces. This is the workplace revolution we need.

She is currently pursuing her doctoral certificate in Medical Qigong at the 3 Treasures School of Medical Qigong studying under Lisa VanOstrand.
Tell us a little bit about yourself and we'll guide you to the right pathway.
Created with